Audition 1 With Angelica (2022/FullHD) [Insex]
Tags:
BDSM
Angelica
bondage
INSEX
Insex com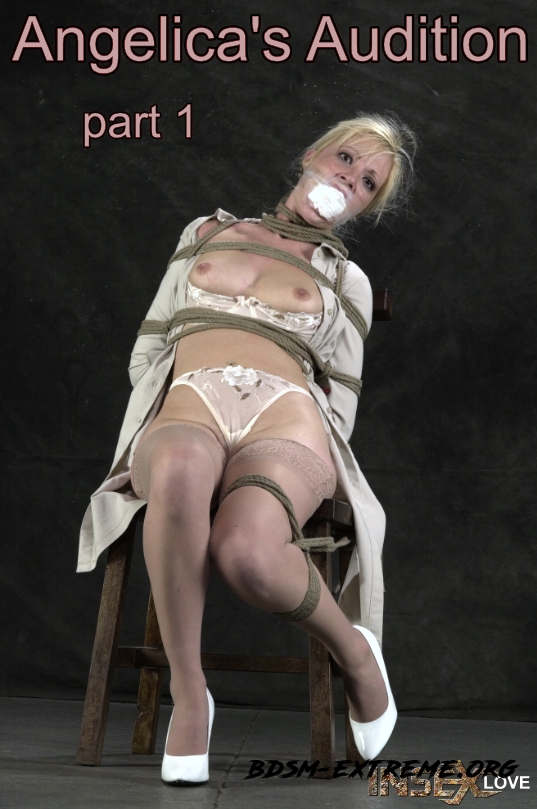 Source:
Insex
Actress:
Angelica
Hmm; coming all the way from England to perform on the Insex sight – this sounds interesting. She comes in with a management style outfit on – an expression of power? Let's get her roped in a box-tie and hobble the left gam with some loops, a cinch at the knee and secured to the leg of the chair. This way we can watch the other gam un-impeded. Next step -Fill the face hole. We go through a bag of fluffy socks every couple of months. Stuff it in the back between the upper and lower molars first. Use pressure to wedge the jaw wide. Now fill the void with the rest of the sock. The best tape is window seal; it is slightly elastic, sticks nicely to itself and can be pulled from the hair without a mess. Her helplessness is dramatized when PD casually sits beside her and rummages through her purse. He finds a pair of panties stashed there and proceeds to put them over her head. Now for a savory moment; let's peel those clothes off. I think the old man is channelling the grandmaster Nureki Chimo. He rigs her to a floating bar sideways. She moans, writhes and squeals constantly. She's into it as indicated by her performance. Let's go for an orgasm. Pump her with Mr. Pogo and pulse the knob – Yep, she is making all the right sounds; the ropes are hugging her tight; she feels safe; and she knows she is arousing us. To please is the greatest turn on. Her enthusiasm for a struggle is dramatic. Pogo is pumping, cunt is dripping, let's keep going nothing is limiting. PD is utterly inspired by this squirm – this is a unique charm. She is ready for the farm.
Tags:
BDSM, Angelica, bondage, INSEX, Insex com
Year Video:
2022
Duration:
00:57:29
Quality:
FullHD
Format:
MPEG-4
Size:
4.08 GB
Audition 1 With Angelica (2022/FullHD) [Insex]
Dear visitor, you went to the site as unregistered user.
We encourage you to
register
or enter the site under your name.